Lists
Seven of the Worst Ever Predictions in Football History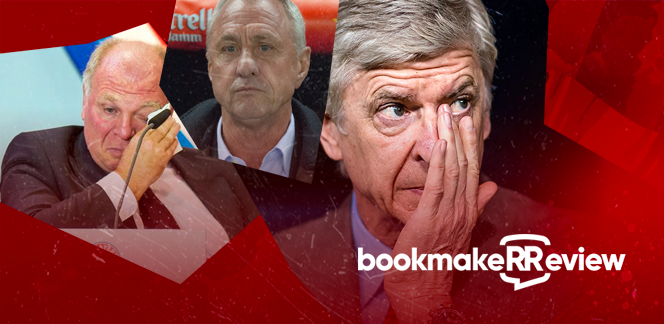 Contents of the article
Asides all the action on the pitch, football has given us a lot of drama off it as well over the years. Be it from coaches, pundits or even players themselves, we've seen lots of figures make their predictions ahead of games or give their opinions on certain players.
Some of them have gone right and some of them have gone awfully wrong. In fact, if some of these guys could go back in time and erase their comments, they would have taken the first chance to do so.
In this article, we'll be taking a look at some of the worst fails when it comes to football prediction over the years. We can only imagine some of the odds bookmakers would have offered against some of these predictions that went wrong.
Uli Honess "How can England beat Germany?'
When Germany and England were to lock horns for the World Cup qualifiers back in 2001, the Germans were the favorites by far on paper. So much that Uli Honess bragged publicly about the German side dispatching the Three Lions with ease.
"How are England going to win in Germany?" The former international and Bayern Munich general manager said as the two old foes prepared to do battle in September 2001.
"It hasn't happened for 100 years. I have no doubts whatsoever that Germany will quite clearly thrash England. They will easily qualify for the World Cup with this match."
It looked like Honess was right for a grand 12 minutes then his prediction went all wrong. Carsten Jancker put the Germans ahead, but a Michael Owen hat‑trick plus goals from Steven Gerrard and Emile Heskey secured a 5‑1 England win.
Ferdinand's wrong prediction on PSG after 4‑0 win against Barcelona
Back in 2017, PSG looked to have produced one of the most stunning results in the Champions League when they came out 4‑0 winners over Barcelona in the round of 16. It was one of the worst Barca performances in ages and many couldn't see how they would comeback from it.
In fact, betting sites already confidently placed the French giants in the quarter‑finals. Ferdinand also tipped PSG as one of the sides that could even win the competition.
"I think this makes PSG a threat in the competition," He continued:
"Mentally they will go on again and they will believe now they are capable of winning this tournament by beating one of the best teams".
None of that ever happened as Barcelona produced one of the best comebacks in history with a 6‑1 victory at the Camp Nou that left everyone stunned.
Vidal tipping Barcelona to get a result against Bayern Munich
Ahead of Bayern facing Barcelona in the Champions League quarterfinals for the 2019/20 season, Vidal, who was on the books for Barca, bragged about his side getting a result against the German side. He mentioned that they are not a Bundesliga side and Bayern should not expect to stroll past them when they meet.
The exact opposite of what he said turned out to be true. Barcelona suffered a whopping 8‑2 defeat that day that handed them their worst defeat in Champions League history. It also led to the sacking of Quique Setien.
Terry Venables "Messi is great but can't score with his head"
Ahead of the Champions League final between Barcelona and Manchester United back in 2009, Terry Venables didn't see how Barca could win as he predicted Ronaldo will rule the day.
He even went more specific in his details:
"Messi is wonderful on the right but Ronaldo is terrific on the right, the left and through the middle as well. He also scores goals with his head, which Messi couldn't do even if they put a top hat on him."

 
Speaking before the Champions League final in 2009, the ex‑England manager was humiliated as Messi scored the winner against Manchester United... with a header. It was as if Messi scored that goal just to prove his haters wrong.
Arsene Wenger saying Arsenal will dominate English football
The Gunners had just won the Premier League and FA Cup double, without losing a game away from Highbury, clinching the title with a win at Old Trafford.
Wenger was so upbeat about his achievements with the club such that he tipped them to dominate English football for years to come.
"I detect a shift in the balance of power in English football to us" the Frenchman said at the time.
Since that declaration, Arsenal failed to win a trophy and went on a major drought up until 2014 when they ended their trophy drought with a FA Cup win. As it stands, the Gunners have not even played Champions League football for the past three seasons. So much for dominating English football.
Cruyff "Barcelona are favorites against Milan in the finals"
The then Barcelona manager was so confident his side will beat Milan ahead of their continental final he proclaimed in public how sure he was about the victory.
Johann Cruyff:
"Barcelona are favourites. We're more complete, competitive and experienced than [in the 1992 final] at Wembley. Milan are nothing out of this world. They base their game on defence, we base ours on attack."

 
Arrogantly predicting the Champions League final in 1994, Cruyff would be made to eat his words as Milan ran out 4‑0 winners.
Alan Hansen's infamous "you can't win anything with kids"
In any list for worst football predictions, this would most likely be number one. In August 1995, Match of the Day pundit Alan Hansen criticised then‑Manchester United manager Sir Alex Ferguson with a comment that went down in football folklore:
"I think they've got problems. I wouldn't say they've got major problems. Obviously, three players have departed. The trick is always buy when you're strong, so he needs to buy players. You can't win anything with kids".
Hansen was speaking after Ferguson's young side lost 3‑1 to Aston Villa on the opening day of the 1995‑96 season. United went on to win the Premier League and FA Cup that season with a team whose average age was 26 years and 137 days (including only players who played 10 games or more).
Since Hansen's statement, only Chelsea have won the title with a younger squad. Hansen was ridiculed by fellow pundits and football fans all over. Till today, he will surely regret ever saying those words.