Lists
Signing Up to a Betting Website: Which One Allows You to Do It Quicker?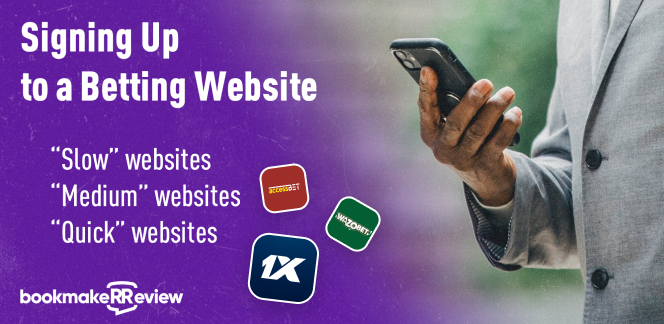 Choosing a bookmaker might be one of the most tedious things for a prospective bettor. Here at Bet24.kz, we already have all the necessary pointers for you to make that decision but there is more you probably will not see anywhere else.
Time is a very important factor when it comes to decision making online. A bookie with good offers but a slow service in general could be a turn off to customers still.
So we took time out to the bookmakers we are partners with and the actual time it takes one to register accounts. We compared them all to each other and worked out what reasons made one bookmaker different from the other in terms of accessibility and user interface.
In the article below, we grouped the eight different bookmakers according to three categories based on how fast it was to register a new account; slow, medium and quick.
Slow – Longer than 2 Minutes
1.     Registration with NetBet
NetBet is another fast rising bookmaker in Nigeria. They are yet to be fully known by all but a good number of punters can at least recognize their name as a bookmaker. Registration with them was straightforward although there were some extra details that made things slightly slower than other bookmakers mentioned in this list.
The screenshot below shows that you need to fill in those first three columns before you can move to activate your account.
2.     Registration with Accessbet
The registration button for Accessbet could be found on the top right hand corner of their website. Their user interface is pretty straightforward as well. On getting to the registration part, one was asked to fill in the usual details of username, password, repeat password, email and phone number.
Unlike some other betting sites, one must actually activate the link from your email before you can login. Hence, it took slightly more time.
Medium – Up to 2 Minutes
1.     Registration with LionsBet
Lionsbet are up there with one of the top bookmakers in the country. It is no surprise that they'll ensure they keep up in many ways, including a fairly quick registration process. Creating an account with Lionsbet was pretty straightforward and with no issues. As you can see in the screenshot below, they only require basic details any bookmaker will ask for.
After inputting your details, you will also need to activate your account via a link sent to your email. In all, it was pretty quick as well.
2.     Registration with Betway 
Getting to register an account with Betway was also pretty fast and straight to the point. Betway are one of the most popular betting brands globally and their fame spreads to Nigeria as well. They usually have lots of promotions on offer that makes them exciting for any prospective customer.
As seen in the screenshots below, you will only need to fill in two categories of minor details and you're immediately a registered Betway user on the spot. It was very straightforward and took a short amount of time to get it all done.
3.     Registration with 1xBet 
Registration via 1xBet is quite simple. Although, it must be said that they have a quite complex user interface compared to other bookmakers. However, the registration button is just at the top right hand corner of their website.
One can register through phone, email or via social media accounts (provided you give permissions).
The one thing we noticed that could cause a snag in registrations is the fact that the password must meet a certain criteria of numbers as well as symbols and must also be repeated on the same page.
Following that, you must activate the account via a link sent to the associated email. In all, this took about two minutes to do.
Quick – Less than a Minute
1.     Registration with Wazobet
Registration with Wazobet was literally one of the fastest. It took literally less than a minute and one only had to input a mobile number and choice of username. The password for the account will then be sent immediately to the selected number within mere seconds. One can then change the password afterwards. All in all, it was pretty fast.
Registration via email is available too.
2.     Registration with BetBonanza
Registration with BetBonanza was very quick and stress free. As with other bookmakers, registration button was visible in the top right hand corner as well. Judging from the screenshot below, they did not request for any details that were out of hand and it was all clear what was needed.
After inputting all the necessary details, the account was ready for deposit and eligible to use just immediately. The whole process was pretty quick as well.
3.

 

 

 

 

 Registration with Betwinner
Betwinner and 1xBet are very similar in their registration processes and it must be said that it indeed looked like the same altogether. Like 1xBet, one can also register through phone, email or via social media accounts.
However, they are different from 1xBet in the sense that there is more flexibility with passwords and that made things definitely much faster.Карусель изображений
After that, you must also activate the account via a link sent to the associated email. It was pretty quick to say the least.