Analytics
Most Consistent NPFL Betting Trends: Were They Worth Betting?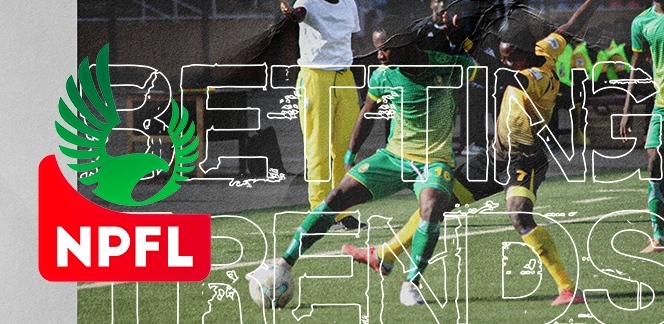 Contents of the article
Football is back in Europe and in other parts of the world globally but is yet to resume in Nigeria. The NPFL was called off back in July due to the coronavirus pandemic. Unlike other leagues elsewhere, the season was agreed to be cancelled with no winner announced whatsoever.
As it stands, there is still no official date for the new NPFL season but some reports in the Nigerian media say it could start sometime before the end of December 2020.
With another season just around the corner, prospective bettors and bookmakers alike would already have their eyes on the new domestic season.
In this article, we will be looking at some of the recurring betting trends from the top teams last season. They could serve as pointers to betting tips that could come in handy for the new season.
We will be using the top‑five placed teams from last season as at when the season was annulled and we will also leave you with the winnings (or losses) that could have been if one had put money on these tips.
Plateau United
Prior to the suspension of last season, one of the country's most famous sides in Plateau United were top of the league with 49 points from 25 games and four points ahead of third‑place Rivers. Plateau were favorites to claim the title had the league not been cancelled and they will be one of the favorites again no doubt in the new season.
Moving on to betting trends, a number of scenarios have been recurring with Abdul Maikaba's men but one of the most profitable ones from last season was the number of clean sheets which translates to (BTTS NO) from a betting angle.
Plateau were also one of the very best sides with number of home wins but their odds for that were little to nothing so we'll turn our focus to the next best thing.
Of all the 25 games they played, 16 of them saw the 'BTTS NO' option play out correctly and Plateau United won 14 of those games and lost only two of them. Odds for this option varied between 1.29 and 1.57 depending on the opposition, which is not good, to be honest.
Going with 1xBet as our reference bookmaker, a stake of 1000 NGN on that option for all 25 games would have amounted to a 1,800 NGN of total losses. It is yet another proof that, in betting, odds matter more than stats.
Enyimba
Based on points coefficient, they were perhaps the best side last term and it's no surprised they were placed in second position even though they had lesser points than third and fourth placed Rovers United and Lobi Stars respectively. Compared to everyone else, they played only 20 games and had 15 points more to win from five games unaccounted four.
Of those 20 games played, the most recurring theme for Enyimba was the over 1.5 market. It was a pretty lucrative one as well from a betting angle. 17 out of their 20 games saw them record the over 1.5 goals and the odds based on opposition ranged from 1.35 to 1.62
Taking all 20 games into account, this option for Enyimba amounted to a profit. Meaning a stake of 1000 NGN would have brought a total return of 5340 NGN. It is not a big money at all, but it could have been worth a punt.
Rivers United
Rivers United were the third placed team in the league as at the time the competition was annulled. They were also in good form at the time and had a run of four wins from their last five league games. Sadly, the rest of the campaign wasn't played out for them to see how it could have all turned out.
From a betting perspective, it turns out Rivers United were not your best bet for scoring goals. Some say it's the team's style of play, others say its oppositions afraid to have a go at them but for some reason, their games don't produce a lot of goals.
It turns out their most recurring trend was the under 2.5 option. Of all 25 games played, 18 of them turned out with under 2.5 goals.
This was not massively profitable with bookmakers offering odds from 1.34 to 1.95 for this option. Taking all 25 games into account, we were able to get 2220 NGN of profit from 1000 NGN U2.5 bets on every match.
Lobi Stars
Lobi Stars were fourth on the table as at the time the league was called off. They had a tally of 43 points and just two below third‑place Rivers United.
We all know the NPFL is famous for a staggering number of home wins and Lobi Stars had their home as a fortress last season.
In fact, their recurring trend from a betting perspective was the number of their wins at home. In summary, they did not lose a game at home up until the league was suspended.
Of their 25 games played, 13 were at home and they won nine out of those games and drew the other four.
Although odds were not so much. All of Lobi Stars' nine home wins saw odds from 1.24 to 1.53.
A 1000 NGN stake on every of Lobi Stars' home game last season would have amounted to a 660 NGN of total losses. Considering the odds, it is not bad at all. Could have been worse.
Enugu Rangers
Similar to Rivers United, Enugu Rangers also had the under 2.5 goal option as their most recurring trend from a betting perspective.
Of their 24 matches played up until the season was annulled, 16 of them saw under 2.5 goals. But was it worth a punt?
Unfortunately, no. This trend was also not profitable. Odds from 1.35 up to 1.70 were available across the span of games for this option. Taking all 24 games into account, 1000 NGN stakes on every match would have resulted into a loss of 270 NGN.
Conclusion
As we can see, not all betting trends are profitable. Most of the times, pretty numbers do not result into big winnings. Betting is all about odds, this is why you should always pay attention to them before putting your money at stake.