Analytics
NPFL and Premier League Betting Trends: What is the Difference?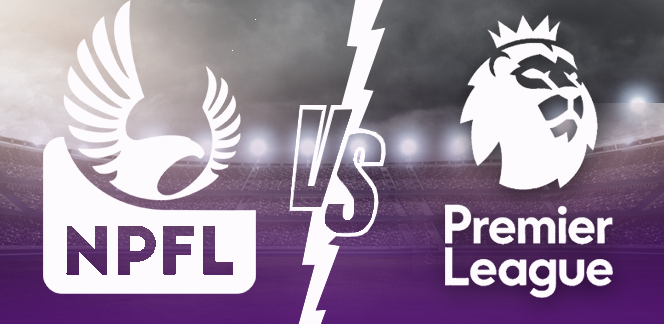 Contents of the article
As we all know by now, it's becoming common for bettors to have a particular or favorite league they like to bet on. For a vast majority, it's simply because their favorite club plays in that league. For others, it's because of a certain loyalty to the domestic league of their country and many more.
Going more specifically, there's a reason the Premier League has grown to become the bookmakers favorite. As it stands, the simple reason is because the English top flight is arguably the most watched in football.
For example, an estimated 643 million households in 212 territories tuned into the 2018‑19 season.
It is broadcasted across the globe in more than 200 countries and reaches over 4 billion people. The Premier League has boasted players like Thierry Henry, Cristiano Ronaldo, David Beckham, Wayne Rooney, Frank Lampard, Didier Drogba, Harry Kane and many more.
The NPFL might not boast anywhere close to the prestige of the EPL but it is unique in its own way as well. Whether you are a Nigerian or not, the domestic league of one of Africa's best footballing nations is one that has left many puzzled over the years. From a betting perspective, it is one that has delivered the goods to a great deal as well.
In this article, we will be comparing both leagues and looking at betting trends to follow when making picks in either competitions.
Goal Market – NPFL is not your best bet in this regard
For some reason, the NPFL is not very famous when it comes to goal‑scoring and getting a good number of them. Unlike the EPL where you can easily get a goal fest, the same cannot be said for the NPFL.
The NPFL is generally known to be more of a physical battle than anything technical and that is perhaps the major reason why there is a shortage of goals in the league. Only on few occasions, we get to see over 2.5 goals in a single match unlike the EPL where some games can go on to end in a 3‑3 or 5‑2 score‑line as we've seen on multiple occasions over the years. Throwback to Arsenal blowing a 4‑0 lead against Newcastle to finish the game 4‑4.
To buttress the point above, the 2016 and 2017 seasons in the NPFL saw just above 700+ goals. In that same period, the EPL saw above 1000+ in each season and the difference of 300+ goals does say a lot.
Fans can take advantage of the NPFL being a low‑scoring league to play the Under goals market. It is a much safer option in this league but will be totally unadvisable for the EPL.
Bookmakers are already aware of the trend as well and always try to do their best not to give unnecessary odds in both instances so they don't give bettors an easy run to make cash. Except you have a strong hunch about goals to be scored for a particular NPFL game, the goal market is not one to go for.
Home wins almost 'all the time' – NPFL is way dominant than the EPL for this
You would notice that the odds offered by the bookies for the home team to win in the NPFL are usually very little/unattractive. We have the answer to that. This is because 85% of the time, the home team truly does win and it's no myth at all. The stats prove it as well.
In the 2017 season, only 19 games were won by the away team, 5% of the season's games. Six out of twenty teams did not win a single away game all season. Plateau United, the champions, won only two away games but won seventeen of their nineteen home games.
This trend is not new; in the last 15 years, home teams have been nearly invincible. You'll hardly see a betting site tip the away team to win in the NPFL.
Many reports have claimed clubs try to influence decisions to go their way by 'bribing' the referees and another possible reason for this is the referees afraid of fan violence.
For example, on 23rd April, after Plateau United scored a late equalizer against Heartland FC Owerri, Heartland fans descended on the match officials and accused them of favouring the away team. The violent attack on the officials, which was backed by Heartland management, left the referee hospitalized. To avoid any trouble, referees just favor the home sides in the NPFL although it is slowly changing over recent times.
In the EPL, it doesn't really apply and anyone is favorite everywhere and it all depends on quality of the players.
Special markets – EPL definitely boasts a stronger option than the NPFL
Most of the special markets like corner kicks, penalties, number of offsides and many more are by far more prevalent in the Premier League. The excessive use of VAR in recent times has strongly added to this.
The 2020/21 Premier League season alone has seen close to 40 penalties already and is on course to break the penalty record for a single season.
We've also seen many red card decisions, goals disallowed and many more given in the EPL than anywhere else due to their excessive use of VAR once again. To that effect, if you're looking at going for special markets to bet on, the NPFL is not your place and you boast a stronger likelihood of seeing your prediction come through in the EPL.
Conclusion
The NPFL and the EPL are unique in their own ways but you would know by now that they also have their pros and cons from a betting perspective. Understanding the technicalities of each league and what you're looking out for would no doubt help you make better picks/put you on a better path for research before you add them to your slips. Next time when you notice some questionable odds in these leagues by bookmakers, some of the above reasons explained are behind those decisions.