Guides
Betting on Cards in Football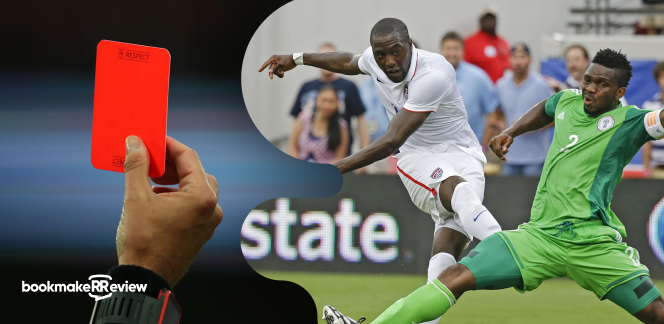 Contents of the article
Which were never intended for betting. Wagering on the number of throw‑ins, corner kicks Betting on football has become so broad and comprehensive that these days punters can bet on aspects of the game and offside infringements is commonplace today and is an integral part of what reliable bookmakers offer to bettors.
One of the most popular of these types of peripheral bets is betting on yellow and red cards. This is because placing a bet on the number of bookings in a football match is almost as exciting as betting on the total number of goals, something which cannot be said for betting on throw‑ins or offside infringements.
When are Cards Given?
In football, cards are given by the referee for various types of game violations. Yellow cards are given for less serious offenses, while red cards are given for serious foul behaviour. This means that dangerous tackles, intentional handballs, abusive language, and other breaches of football laws all qualify for either a yellow or a red card.
Referees give yellow and red cards for:
one serious foul which might injure a player;
for constant fouling of opponents;
when a player commits a so‑called tactical foul to stop a dangerous attack;
for an intentional stop of play;
when players verbally attack the referee or opponents;
and even when footballers celebrate a goal in an improper manner.
Yellow cards are far more frequently awarded than red cards. This is because with a yellow, the player stays in the match, but when a player receives two yellow cards or a red card, he has to leave the pitch and then his team is down to 10 men. Red cards are reserved for clearly intentional or very serious breaches of the rules.
Where to Bet?
These days most bookmakers offer betting on bookings, especially for popular football matches. What is more, most sports betting operators consider betting on yellow and red cards as an integral part of a decent betting proposition and include wagering on bookings in their pre‑match and live betting offers.
Almost all Nigerian betting sites offer betting on yellow and red cards, but the trick here is to separate the wheat from the chaff. This means that betting enthusiasts should bet on bookings at reputable and secure sports betting operators. These are bookmakers which are licensed and regulated by established regulatory bodies such as the Lagos State Lotteries Board (LSLB) and possess all the latest security certificates.
Fortunately for punters, the list here is quite extensive and includes Nigerian bookmakers such as:
One of the perks of betting on yellow and red cards is that it can be fairly predictable at times. This is because certain types of teams and players can get quite carried away in certain types of matches and this can result in a high number of cautions.
Local derby matches or duels between arch rivals are often very tense affairs and players tend to pick a lot more cards in them. These are perfect for the 'Over' total cards market. On the other hand, dead rubber matches in which nothing is at stake usually result with few if any cards and are ideal for backing the 'Under' proposition.   
However, oftentimes, this is easier said than done. Punters are well advised to do their due diligence before making a cards bet and that means answering questions such as:
Have previous matches between the two teams resulted in lots of cards, think Boca Juniors vs River Plate?
Is this a local rivalry in which tensions are flying high like Manchester United vs Liverpool?
Are there aggressive players with a short fuse on the pitch ala Roy Keane?
Are there loose cannons capable of crazy outbursts in the Mario Balotelli mould?
Is the referee card‑happy and does he frequently punish offenses with bookings similar to Mike Dean?
If the answers to these questions are positive, then a punter can most definitely back any 'Over' cards total and rest assured that he will likely have a winning bet.
However, as with all types of different bets, there are those who will say that betting on cards is hugely dependent on luck. These are the same people who claim that wagering on football over/under goal totals is the same as playing the lottery and that if you are choosing to bet on some of these markets you might as well choose an online casino and not an online bookmaker.
These people may have a point, but the claim that any type of sports bet is only reliant on luck is downright false. Betting on football requires a lot of knowledge on a particular topic and this goes double for betting on cards.
In fact, wagering on the total number of yellow and red cards demands greater insight of the game than any other type of football bet such as the match winner or
handicap bets
. It means that bettors have to know the line‑ups of the teams, the history of the teams' head‑to‑head duels, the style of the referee and even the temper of each player. This makes betting on cards very analytical, but also makes bookings outcomes easy to foretell.