Guides
Handicap Betting explained. The complete guide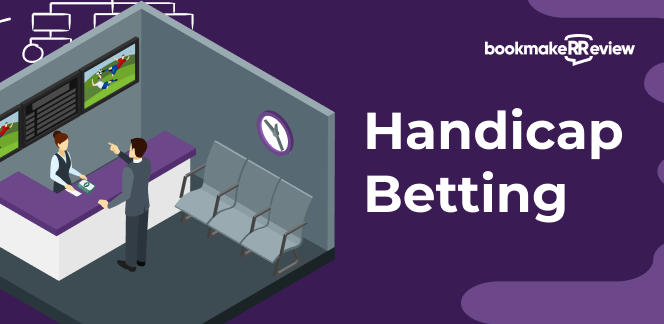 Contents of the article
Aside from traditional sports betting markets such as predicting a winner or loser, many sports-books offer handicap betting. At first glance, if you're unfamiliar with betting markets, this opportunity may appear confusing, when in reality it is designed to make betting outcomes more competitive.
What exactly is handicap betting?
To clearly explain this sports betting market it is easier to clarify how traditional odds are created and offered. As an example, football is played between two teams. Bookmakers will gather all of the relevant information, such as previous results and league position. They will then determine that one of the teams is more likely to win the game. The team most likely to be the winner will be given lower odds. Any bet placed on this team will be judged to have a good chance of winning, however, the returns will be much less.
With handicap betting, bookmakers want to make the contest more interesting by 'levelling up the playing field'. So in the instance of a football match, the better team is given a handicap, where they will start on an imaginary negative goal count.  By doing this the bookmakers have effectively made the contest even and the odds on offer will reflect this.
Different handicap betting markets
There are of course various types of handicap betting. It is much easier to explain the different options available with real examples. Some handicap betting markets are called different names, depending on which sportsbook is being used. Below is a list of popular handicaps that are offered.
Asian
This market is very popular in Asia and as such the term Asian handicap betting is quite common. It is also displayed as half and whole goals. Within a game like football, there are 3 possible outcomes. Home side win, a draw or away side win. With Asian handicap betting the draw element is taken away. The common practice with this market is that if the contest ends in a draw, the stake is refunded. Asian handicap markets are occasionally referred to as Half goal & whole goal and can be understood with the following examples;
The half goal and whole handicap is again easier to explain using football. If Manchester City played Southampton, the likely favourite would be Man City. They are a good side, playing at home against a poor team and the odds will reflect this. With the half goal handicap, the bet could be Manchester City starting on -0.5 goals and Southampton +0.5 goals. In this scenario, Southampton are starting the game with a half goal advantage. If Man City are backed to win, then the bet is won. If Man City draw or lose then the bet is lost. If Southampton are backed and they win or draw the football match then the bet is won.
Applying the whole goal handicap to the same fixture would see Manchester City start the game on -1 goals whilst Southampton will be leading by 1 goal. If Manchester City are backed they need to win by at least 2 goals.
European
This type of handicap includes the draw element of the three possible ways in which a two-way contest can finish. There will be odds offered on the possibility the outcome ends in a draw. Taking Manchester City vs Southampton again as an example if City are backed with a -2 goal handicap and they win 2-0 the bet is effectively a draw, which means the bet has been lost.
Which sports offer handicap betting?
This market is often given to any sport that is determined by the number of points scored between two teams. Where there is a likely favourite, points are fictitiously awarded to the underdog before the start of the game. This means handicap betting markets are available on popular sports such as football, American football, rugby and basketball. Handicap betting markets are available on other sports where it is not a traditional two-way contest. 
Golf
Markets and odds are offered on individual players in a tournament. The better the player is deemed by the bookmaker, the more handicap they are given. For example, Dustin Johnson, who is a very good golfer may be given a fictitious handicap of +3 shots before the start of the tournament. If Johnson is backed he needs to overcome the handicap to win the bet. There are often golf handicap markets available on individual rounds as well. 
Tennis
In this sport, a player can be given a handicap of + or - a certain number of games. This again is designed to level the contest between a favourite and an underdog. In a bet like this, the eventual winner might not have necessarily won the most games for the bet to be successful.
What is sports spread betting?
The term spread is often used and is essentially the same as handicap betting. It is almost identical to Asian handicap betting but is more widely used on sports contests where the number of points that can be gained to win a match are high. Spread betting is often used on sports such as basketball and American football where the better team is given the handicap.
In conclusion
The advantages of handicap betting are that it opens up a lot more markets to bet on. There is often not much value in betting outright on a favourite simply because the odds won't be very favourable. Handicap betting makes the contest more even and allows a lesser team to be victorious; in terms of the fictitious pre-match scoreline. Depending on which type of handicap is being used, such as the Asian, the potential of the bet being successful increases because the draw part is taken away. A disadvantage can be that in some instances fixed odds can be better for the long shot rather than the odds offered on a handicap.