Guides
Draw No Bet and Double Chance Betting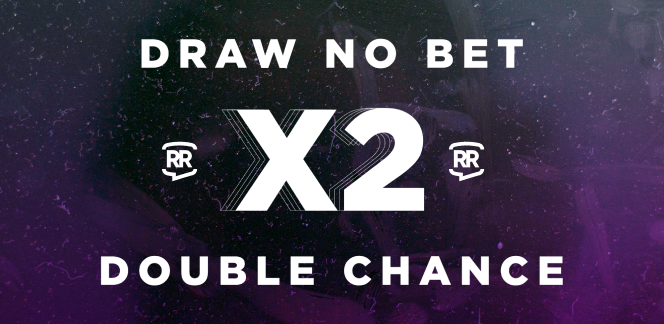 Contents of the article
The most popular bet when it comes to sports betting is the match winner wager (1X2). This is the first and oldest type of bet and is by far the most common one. Even betting novices who have never placed a bet in their life will understand immediately that writing '1' on the betting slip is backing the home team to win, writing '2' is placing a stake on the visitor and putting down 'X' on your ticket is backing the draw outcome.
However, what betting novices don't know is that the match winner bet is also quite risky. This is because you are putting all your hopes and money on only one outcome of the possible three. Fortunately though, there are two other types of bets which punters can use to change this unfavourable scenario: Draw No Bet and Double Chance.
Draw No Bet
Draw No Bet is an excellent alternative to the traditional match winner market. With it, betting enthusiasts can turn the tables in their favour and can dramatically improve the chances of their betting slip.
In a nutshell, the Draw No Bet betting proposition stipulates that a punter can still choose the winner of the match, but as the name implies, if the event ends in a draw the ticket is not a losing one, but odds of 1.00 (0/1) are calculated.
This means that if Manchester United are playing against Liverpool and you choose to back United in the Draw No Bet market at odds of 1.50 (1/2), you will have three possible outcomes:
The first one is the Red Devils winning the match and you being the benefactor of those 1.50 odds.
The second scenario is Liverpool winning the derby and unfortunately resulting in a losing slip.
However, when the match ends in a draw, punters can see the difference between the match winner and the Draw No Bet market. In the match winner market, it's plain and simple - your betting slip is a losing one. In the Draw No Bet market though, that betting ticket is still alive and kicking even if odds of 1.00 (0/1) are calculated for the United match.
Double Chance
The Double Chance market is quite similar to Draw No Bet in the fact that it once again covers two outcomes of the possible three. It once again, dramatically increases the chances that a betting slip will be a winning one.
What makes the Double Chance market such an enticing proposition though is that regardless whether the match ends in a win or a draw for your selected team you will get fixed odds for both the win and the draw outcome.
If we stick with the same EPL example and again decide to back United together with the draw outcome, we would choose the '1X' option. Let's say that the odds for this are 1.35 (7/20). If Manchester United win the match, the punter has a winning ticket with odds of 1.35. It is important to stress here that the same odds of 1.35 apply if the match ends in a draw.
The name of the bet is aptly chosen as Double Chance doubles your chances of winning. However, it still doesn't cover the third option and that means that if Liverpool win, you would end up with a losing ticket.
Advantages
Better Prospects
What both these bets do is cover two of the possible three outcomes while the match winner market only covers one alternative.
In addition, both the Draw No Bet and Double Chance markets can be found in in-play and pregame betting and that aspect further increases the advantage the player gains over the bookmaker.
Perfect for Accumulator Bets
Opting to go with one of these two markets means that your betting slip will remain active for longer periods of time. This is especially true for accumulator slips in which punters include more events than one.
Having an active accumulator ticket for longer definitely increases the pleasure of betting and obviously means that you are one step closer to having a winning ticket.
Ideal for High Rollers
These two bets are not only good for your average accumulator punter, but are excellent for large stake high rollers.
People who put down large amounts of money on a single event are often choosing to go with Draw No Bet or Double Chance. This increases their chances of winning and makes putting large sums of money on only one event a whole lot safer.
Disadvantages
Lower Odds
Unfortunately for betting enthusiasts, both of these bets come with lower odds due to the fact that they cover two of the three possible options.
However, some bookmakers such as Betway, Nairabet, and 1xBet try to offset this by using low betting margins and successfully manage to offer players decent odds.
As you might expect Draw No Bet comes with higher odds than Double Chance. Bet9ja, Marathonbet and other bookmakers give higher odds to Draw No Bet because the odds for the draw outcome are 1.00 whereas with Double Chance draw pays the same as win.
Not Available in All Sports
There aren't many other pitfalls to going with one of these two bets other than the fact that they cannot be found in all sports.
This is not a problem if you are betting on football, but if tennis is your best sport to bet on it can be a significant problem.