Guides
Betting on Non-sporting events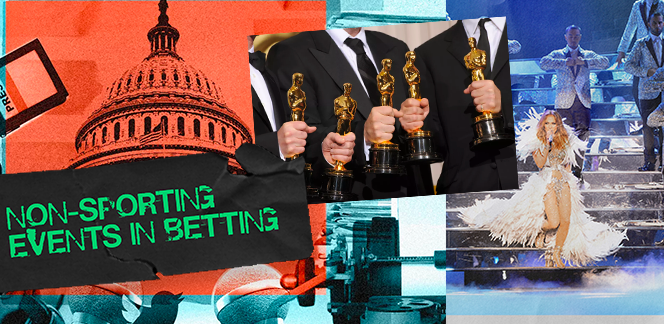 Contents of the article
The sports betting offer that bookmakers have is pretty comprehensive these days. It incorporates all the possible sports out there and even includes betting on computer generated virtual sports.  
However, betting providers always try to offer more events, more competitions, and more markets and that means finding new things to bet on. The newest among these is non‑sports betting.
What is Non‑sports Betting?
Non‑sports betting is wagering on events not related to sport. These range from things such as political elections and talent contests to volcanic eruptions and Nobel Prize winners. There are no limits to the things that punters can bet on.
Bettors can place wagers on any event in which two or more contestants are vying for some type of top spot. Here are some examples of non‑sports betting markets:
Next US President;
Next James Bond;
X Factor Winner;
Big Brother Winner;
Oscar Winner and so on.
Almost all of the non‑sports betting markets are in the form of outright bets. This means that a punter can only place a bet on the winner of the contest, completion, audition etc. In this market there are no different types of bets like in sports betting (there are exceptions to this of course).
Things to Look Out For
Non‑sports betting is similar to betting on sports. Reading the news and comparing bookmaker odds apply to both sports and non‑sports betting. However, there are also other factors such as tabloid gossip that punters should look out for in non‑sports betting events.
Gossip is rarely important when betting on sports such as football or basketball. However, it is essential information when it comes to non‑sports betting.
Let's go back to May 2018 and the build‑up to the Royal Wedding of Prince Harry and Megan Markle. The wedding was probably the largest non‑sports betting event of the year and came with tons of markets which included:
Who will be invited?
Who will perform?
Who will be the best man?
Who will walk Meghan down the aisle?
Will the Queen wear a blue or yellow hat?
etc.
A punter can easily see that for these non‑sports betting markets, the only viable source of information can be found in a tabloid. Reputable newspapers and news outlets would never even dare to speculate on things such as these. Yellow journalism on the other hand, would definitely do that.
That's why it is quite important to keep up with what tabloids are saying. For example, ex‑girlfriends Chelsy Davy (4/1 or 5.0) and Cressida Bonas (5/1 or 6.0) were rumoured to have been invited to the wedding as they remained friends with Prince Harry in spite of their break ups. The gossip columns were pretty certain that this would happen and so it did. And the odds were very good too.
Every now and again
bookmakers
get some insider information that forces them to lower or increase the odds. This is usually a decent indicator of something happening behind the scenes and punters should always keep their eyes peeled for dropping odds.
For example, just before the 2019 Oscars, there was a huge drop in the odds for Rami Malek to win ahead of Christian Bale in the Best Actor category. Both of these actors opened betting at the same odds of 7/5 (2.4). However, Malek was only 3/25 (1.12) on the night of the Oscars, while Bale's odds rose quite a lot and were set at 9/2 (5.5) on the big night. Rami Malek obviously won the Oscar and this was one of the clearest examples of dropping odds dropping hints to punters.
Nigerian Bookies and Non‑sports Bets
Good insider information is useless if you cannot place a non‑sports bet because bookmakers in your country don't offer betting on these types of events. Fortunately, this is not the case with most Nigerian bookmakers.
Nigerian betting operators such as Bet9ja, Marathonbet, MerryBet, and Nairabet all make it possible to place some type of non‑sports wagers on their sites. These are all good and reliable bookmakers for a non‑sports bet.
Popular Non‑sporting Events in Nigeria
Nigerian punters can bet on both international and domestic non‑sports betting events. Bookmakers such as
1xBet
and
Betway
frequently come out with particularly enticing betting events and markets, but other operators don't trail much behind too.
Some of the non‑sports events offered to Nigerian punters include propositions such as:
Politics (German elections, Nigerian Presidential elections, UK elections, etc);
TV shows (Dancing with the Stars, Nigerian Big Brother, X Factor, Britain's Got Talent etc);
Films (Golden Globes, Oscars, BAFTA, Cannes Film Festival etc);
Music (Next James Bond Theme Song, GRAMMYs, MTV Music Awards etc);
Weather (Snow in March, Maximum Summer Temperature in London, etc);
Natural Phenomena and Exploration (Volcanic Eruptions, First to Mars, etc).
Betting on these events is becoming more and more popular in Nigeria. What is more, Nigerian punters no longer stick only to football when placing a bet and vary their wagers quite a lot.
These days Nigerian bettors place tons of MMA and NFL bets and this was something which wasn't true only a decade ago. In this betting climate, it's not surprising that betting on film specials and politics is turning into a new trend in Nigeria.
Best Legal Nigerian Bookmakers for Non‑sporting Events

BetBonanza

Betway

1xBet

NETBET

Bet9ja


Marathonbet
1960Bet

MerryBet


Nairabet
WGB