Guides
What makes a reliable bookmaker?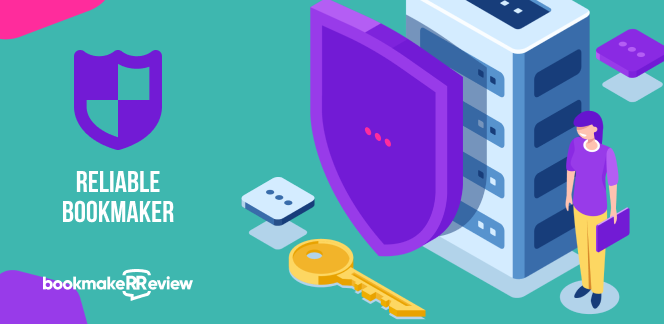 Contents of the article
Just like in any other market with a perfect competition, Bookmakers in the Sports Online Betting market tend to keep pace with each other in terms of what prices and products they offer. Knowing they play a key part in the world of betting and gambling, there has been an emerge in Bookmaker sites and apps these past few years, which just makes it harder to pick, especially if you're a newbie.
In this article you will find the qualities and key elements of what makes a good, reliable Bookmaker who will play a big part in helping you bet for or against the odds. And help you win. 
Safe and secure payments
What makes a Bookmaker reliable is its financial stability, the way the site can ensure you that it will pay you what you've earned and do so on time. You bet to win, to earn money, therefore the payment being secure, legal and done as soon as possible after winning is what makes the difference between a safe and reliable Bookmaker and a sketchy site who doesn't ensure you of your safety. 
Deposit methods
Most reliable Bookmaker sites offer the biggest variety of depositing your money. Depending on what you need, make sure you pick one that offers the method that's available, easy and best for you. Usually Bookmakers offer: 
Debit/Credit Cards
E-wallets (PayPal, Neteller, Skrill etc.)
Bank Wire
Money Transfers
Check
Choosing the right method for you can help you avoid the tedious technicalities that come from betting, like long calls from your bank about gambling‑related activity showing up on your bank statements. Also keep in mind that different payment systems can charge you with extra fees for transactions. 
Is the minimum really the minimal?
When checking for deposit methods, make sure you also get information on what the minimum deposit you can make is. Sometimes this minimum isn't really minimal, for example there's sites that give you the option of making a deposit that's as low as 20$ and there's others that require you to deposit at least 100 bucks. You'd want to find one that gives its users the biggest variety of choice, this way the site can be more adjustable to what you like and need.
Easy and fast mobile betting
Sometimes having to open your personal computer every time you want to make a bet can be troublesome, especially if you're not home—or somewhere where a computer is easily accessible. So, an easy to use application is a box you have to check when you fill out your requirements for a good reliable Bookie, especially if you plan to bet often and want to do so as fast as possible. This can also help you make bets when the odds are on their highest, increasing the possibilities for you to win. 
Betting odds
In the gambling world, even decimal advantages can result into big winnings. It's absolutely important to bet where the odds are better for you and your way of betting. Remember, the higher odds can help you bring home a big prize, but on the other hand they lower your chance to win a bet like this. Picking a Bookie that offers you the best odds for your preferred sport or the way you lay bets, will be a big advantage for whenever you'll want to do so. 
Bonuses and rewards
There's a good bunch of Bookmakers that offer their users good rewarding bonuses. They may be bonuses you can easily get at sign ups, or as a reward for your loyalty to the site. There could also be different rewarding events that the Bookie can host or offer safe bets to you. These bonuses or special offers however, usually come with certain obligations or requirements you must meet. For example, in some Bookmakers you need to firstly make a certain number of bets before getting the welcome bonus. Every reward and bonus is offered to you on certain terms, so it's better to get informed beforehand about these terms rather than immediately agreeing or choosing a Bookmaker just because of its bonuses.
Customer service
Without facing a real issue first, most betters don't take the importance of customer service seriously, most new betters don't even take it into consideration. But once you've faced that issue and having no reliable customer service to contact and solve the issue with, it could possibly cost you money. Good customer service and user support is offered by a good company that cares about its clients and their complaints. So before taking the final decision, it would be a smart move to see what other bettors have to say about the site's customer service. You could do this by skimming through different forums or on different social network sites.
User interface
In addition to all the elements above, an easily accessible website that's easy to use and makes betting less tedious for its users is another sign of a good, reliable Bookmaker. This website should accomplish one thing: to provide basic information about how betting works to the user. Some simple indicators of a good website are:
Speed 
Quality 
Easy navigation to different markets
Customizable features
Simplified Orientation
No bugs or lags
Deposits can be performed easily 
Keep in mind, the easier a website makes navigating, getting the right information and depositing or withdrawing money, the better it is.